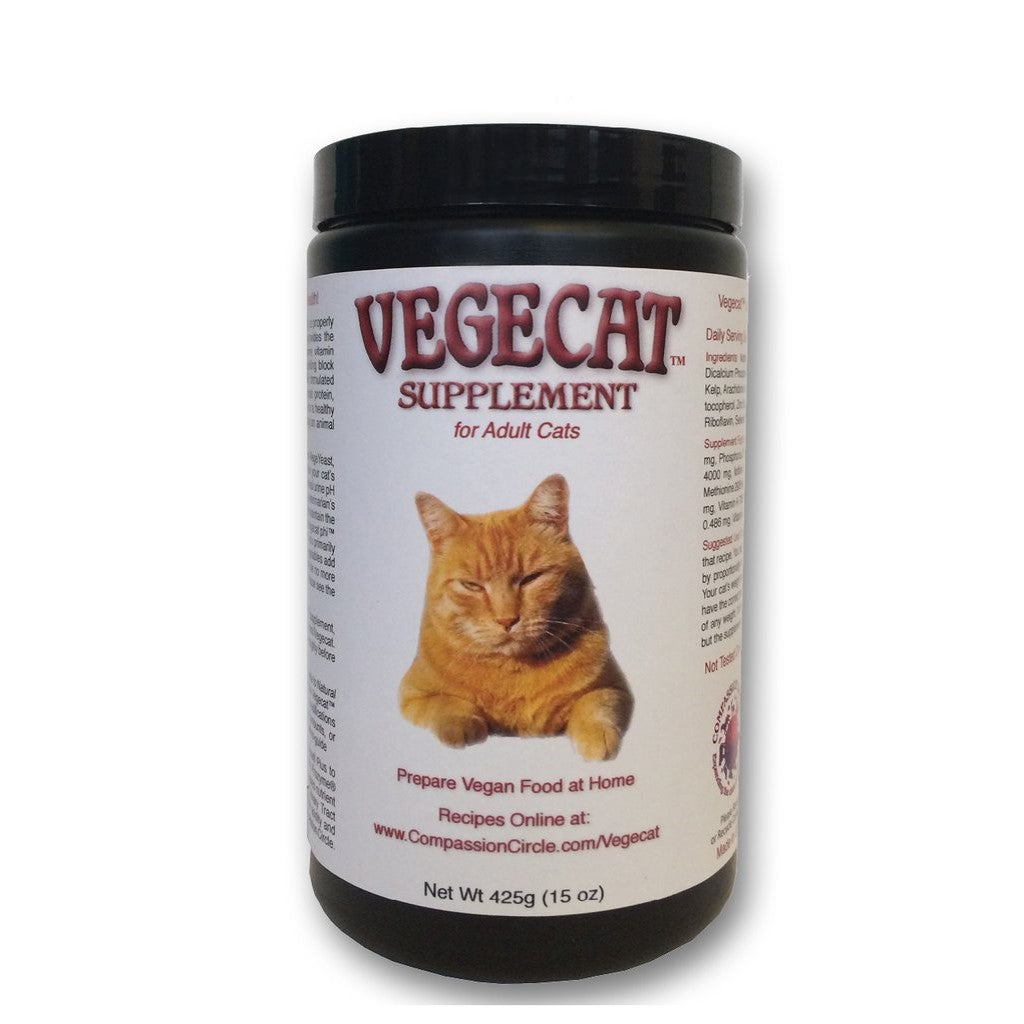 VegeCat Supplement
Vegecat™
 is a supplement used by caretakers to cook nutritionally complete home-made meals for their cats.
Adding
Vegecat™
ensures that the home-made cat food contains all of the essential nutrients, vitamins and minerals.
Vegecat™ formula has been recently updated (2021).
The updated  Vegecat™ formula is nutritionally complete: it contains all the amino-acids, minerals and vitamins, which, combined with well-balanced Vegecat™ recipes, create 100% nutritionally complete meals.
Formula Update (2021)
Arachidonic Acid (ARA)
, a key nutrient for cats,
is included in the updated formula of 
Vegecat
™. ARA is derived from the 
mortierella alpina
, then fermented to produce high-quality, vegan ARA.
Nutritional yeast
was removed from the supplement making it yeast-free. Note: we do not expect palatability issues because nutritional yeast is used in most recipes. If your
cat
does have a problem with the taste,
nutritional yeast
can be added alongside
Vegecat
™, in the ratio 1 to 1. 
The
vitamin D
source is a vegan D3.
Additionally, natural mixed tocopherols were added and products now contain oxygen absorbers.

Since the updated formula is more concentrated, the smaller amount is required to be used in recipes (see DURATION & FEEDING AMOUNTS section).
Preparing home-made cat food with Vegecat™ has a number of advantages:
Nutritionally complete meal

Your cat is getting 100% of nutrients from a home cooked diet
If you cook cat food at home without any supplements, you must ensure that your cat is getting enough of Taurine, Vitamin D3, Vitamin A, and the essential fatty acid arachidonic acid; these are rare nutrients, which is why supplementing is the best way to provide these nutrients for anyone cooking cat food at home

Full control over the ingredients

Cooking cat meals at home gives the ability to select the ingredients you want

You can include the ingredients your cat likes, and exclude those your cat doesn't like
For example, you can include sweet potato and green peas, and exclude corn and wheat

Variety

By cooking cat food at home you have many options when it comes to formulating various flavours, so your cat can always have something different, which adds excitement and energy to your cat

Affordable shipping

Cooking cat food at home and supplementing it is the most affordable way to feed your cat because you pay for shipping of only the vitamins and minerals, which have a small weight. The majority of the weight (and of the shipping cost) in dry kibble or canned food comes from other ingredients, but since you cook at home you buy all other ingredients from the local store and don't have to pay for shipping of those ingredients.
NUTRITION
Vegecat™ supplement for cats provides the nutrients cats require from non-animal sources, including: Taurine, Vitamin D3, Vitamin A, and the essential fatty acid arachidonate that is required for numerous vital metabolic processes. Vegecat™ has been used by the compassionate caretakers of numerous cats throughout the world and over many, many years.
Vegecat™ products contain the below rare nutrients cats require, all from non-animal sources.
Cats need dietary taurine (a secondary amino acid), but significant quantities occur naturally only in animal tissues. A shortage causes blindness and heart disease.
Through biosynthesis most mammals make vitamin A from the yellow pigment (carotene) found in vegetables. Cats lack this ability, making a dietary source of this vitamin, found naturally only in animal tissues, essential.
Vitamin D is another essential vitamin, found naturally only in animal tissues as vitamin D3. Vegecat™ contains vitamin D3.
The essential fatty acid arachidonate is rare in non-animal sources. Cats require it for numerous vital metabolic processes including reproduction.
INGREDIENTS

Dicalcium Phosphate, Calcium Carbonate, Potassium Chloride, Lysine, Choline Chloride, Arginine, Taurine, DL-Methionine, Dried Kelp, Sodium Selenite, Ferrous Fumarate, d-alpha tocopherol acetate, Zinc Oxide, Mixed Tocopherols, Copper Amino Acid Chelate, Vitamin A Palmitate, Vitamin B12 Supplement, Riboflavin, Cholecalciferol
GUARANTEED ANALYSIS:

Crude Protein (min): 8.5%, Crude Fat (min): 0.4%, Crude Fiber (max): 2%, Moisture (max): 7%, Arginine (min): 6.9%, Lysine (min): 7.9%, Methionine (min): 5%, Calcium (min): 14.65%, Phosphorus (min): 3.95%, Potassium (min): 8%, Iron (min): 1000 mg/kg, Copper (min): 60 mg/kg, Zinc (min): 860 mg/kg, Iodine (min): 17 mg/kg, Selenium (min): 8.4 mg/kg, Vitamin A (min): 120,000 IU/kg, Vitamin D3 (min): 16,000 IU/kg, Vitamin E (min): 1,490 IU/kg, Riboflavin (min): 95 mg/kg, Vitamin B12 (min): 1.14 mg/kg, Choline (min): 49,000 mg/kg, Taurine (min): 6.3%
SUPPLEMENT FACTS (per 1 gram)
Arginine: 69 mg, Lysine: 79 mg, Methionine: 50 mg, Calcium: 146.5 mg, Phosphorus: 39.5 mg, Potassium: 80 mg, Iron: 1 mg, Copper: 0.06 mg, Zinc: 0.86 mg, Iodine: 0.017 mg, Selenium: 0.0084 mg, Vitamin A: 1120 IU, Vitamin D3: 16 IU, Vitamin E: 1.49 IU, Riboflavin: 0.095 mg, Vitamin B12: 0.00114 mg, Choline: 49 mg, Taurine: 63mg
RECIPES
Use the kibble recipe (in the Vegecat™ instructions) to make a delicious kibble. Cut kibble pieces larger or smaller according to the size of your cats. You can certainly have your own recipes, but do ensure you add enough Vegecat™ (see amounts below).
DURATION & FEEDING AMOUNTS
a 100 g bag of Vegecat

™

 

lasts a 10 lb (4.5 kg) adult cat for 1 month.

a 250 g bag of Vegecat

™

 

lasts a 10 lb (4.5 kg) adult cat for

 

3 months.


a 500 g bag of Vegecat

™

 

lasts a 10 lb (4.5 kg) adult cat for

 

6 months.
The
 updated 
Vegecat
™ serving size is
roughly half of what it was previously
.
Please take note of the product label and the brochure for this more concentrated product and adjust your daily serving size, and/or how much you add to recipes, accordingly. 

KITTENS

Kittens (up to 12 months old) should be offered ready-made commercial kibble (such as Evolution Diet's, which is suitable for all-life-stages, including kittens).
Vegecat™ and Urinary health

There are some consideration for urinary health. Cats should have an acidic urine pH of 6.0 to 6.5. It is recommended to test the urine at home or at a veterinarian's office before switching the diet and about 3-weeks after transitioning to a new diet, then periodically after – twice in the first year and at least yearly after. If alkaline urine is a problem, add cranberry powder or vitamin C (ascorbic acid) to the diet.
---
---
More from this collection